Where Is The Gold Slot
If Americans think they were the very first to embrace extensive gold mining going by 'Gold Rush', there's bad news: new discoveries of this underground wealth spanned all over the globe, including even small villages on the outskirts of the world. It was a whole lot of mess, in point of fact, but that was the mess people killed and craved for. Lucky ones indeed have grown their fortunes to unbelievable extent while others got high and dry. Now gold is no longer a free asset, so we can only imagine what would it be if the bowels of the earth were still abundant to set off on a digging adventure. But. There's one category of people who actually can – these are game studios known for limitless boundaries in their themes.
Gold Rush aesthetics may be found far and wide, yet today we're going to be looking at one in particular by Aristocrat. So, here it goes – Where's The Gold slot machine, released multiple times throughout past ten years for different platforms because, well, Aristocrat spotted 'a gold source' of their own. Being extremely generous in bonusing, Where's The Gold gained popularity quickly and became sort of a legend inside the gambling industry, especially online. Even though some might find it exquisitely ugly because of poor graphics (compared to the latest advances), this machine has bullets in its gun anyway.
Back in the days – in 2003, to be precise – Aristocrat announced a fresh release, and that's how the original five reeler made it to the general public. Nowadays land-based Where's The Gold remains reigning thanks to revolutionizing hardware providing world-class casino experience. The real machine is built into a gaming cabinet, with a high-resolution screen hanging above players, and that's why gamblers cannot help but still walking toward the slot whereas freshman-machines get bypassed.
Later on Aristocrat, just like any other insightful manufacturer, saw a light of truth in the iGaming and began switching platforms. One of the first machines to be released online was, unsurprisingly, Where's The Gold, so it appeared a safe bet for Aristocrat. Now, when the game is available ubiquitously, a great portion of competition took a bite of the used-to-be popularity, but Where's The Gold remains lifetime classics despite all newcomers to the market.
That Theme
Symbols
Based on the Californian Rush, Aristocrat's machine features a big deal of essential elements. There's a charismatic character, aspiring to strike rich as well as his in-game friends whom gamblers can meet on the reels during the bonus. Complementing symbols involve much needed shovels, pickaxes, wagons to move back and forth in attempt to detect the place to dig, our main miner and also dynamite. Some card symbols are inescapable, too. Besides, as soon as you enter the bonus realms, Where's The Gold paints symbols golden which is a fine turn of events regarding the theme.
Graphics & Sound
The outlook seems quite individual: the machine takes place around some desert right during a marvelous sunset, so additional yellow colors wrap up the overall feel about the theme. Where's The Gold utilizes common cartoon-like approach, so each symbol is represented by a lovely animated picture. A point to get disappointed, though, is sound effects that are lowered to a possible minimum. Only when you spin the reels, you will hear some tunes as the reels drop to their positions.
Speaking Of Payouts
Chances to win? They are medium to high. Where's The Gold revolves around 95% of return, but figures could be individual depending on stakes per round. In other words, gamblers may hope to get back around 95 credits when 100 is wagered. Medium variance theoretically stands for average win-win situations: you are going to spend not so much, but the game is going to reward you with not so much, but once in a good while. If you are satisfied with more or less frequent payouts for a med bet, then this machine is a perfect deal.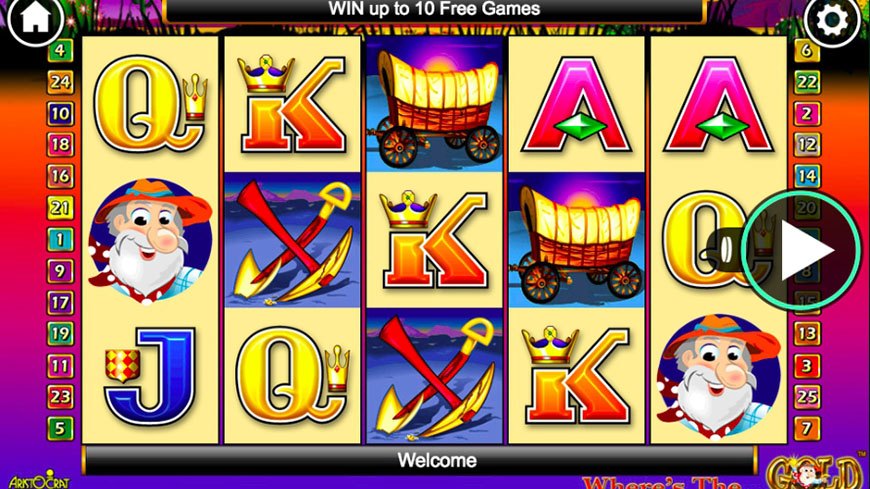 Zooming in on bonuses only is a bit of a bummer, so let's browse the whole picture. Where's The Gold is technically a slot machine of a single feature, delivered by Scatters that activate a series of special rounds. Aside from clean bonusing, there are far more gameplay features to acknowledge:
Paylines can be adjusted – select any suitable value from 1 up to 25 (the max) and stick to it. Adjustable win-lines make the machine user-friendly and quite fitting for those players who do not want to go beyond the budget straight away.

Stakes are welcoming – the range goes from 0.01 to 4 credits per line, and adding flexible paylines to it players are left with much control over betting. Low-rollers must be happy.

Decent jackpot – Where's The Gold exhibits a favorable jackpot amount for a mid-variance game. 4000 credits is on stake, and compare that to the max bet to understand that's a handsome offer.
Gamble Feature
Players feeling particularly lucky can also take advantage of traditional Gamble Card festivity which becomes available after some spin results in a win-win. The rules are nothing new to the genre: double or quadruple. Pick a color of the forthcoming card or a suit and make your bankroll great again. But never forget that a wrong choice leads to your win being evaporated. So engage wisely and on point.
Verdict
This machine is definitely enjoyable. Where's The Gold takes good care of your money, and even if you are not ready to deposit for real, you can go for a fun mode where things unfold just the same. To the top, Aristocrat offer a mobile version, so there are all the more reasons to try this classic piece out.
TOP ONLINE CASINOS